Satori Analytics hosted a highly anticipated in-person event on the 22nd of June, titled "OpenAI for Business," at the beautiful T16 event space in Athens.
Satori, in the first event of its kind in Greece, presented how OpenAI can be used safely in a business environment. The "OpenAI for Business" event achieved resounding success, drawing an attendance of over 90 individuals from more than 50 different companies.
The primary focus of the event was to generate widespread awareness about the vast potential of OpenAI and showcase its practical applications and value across a multitude of industries. By highlighting real-world use cases and demonstrating the tangible benefits of OpenAI, the event effectively achieved its objective of educating participants about the transformative power of this cutting-edge technology. The significant turnout from diverse companies indicates the relevance and interest in leveraging OpenAI to drive innovation and success in various sectors.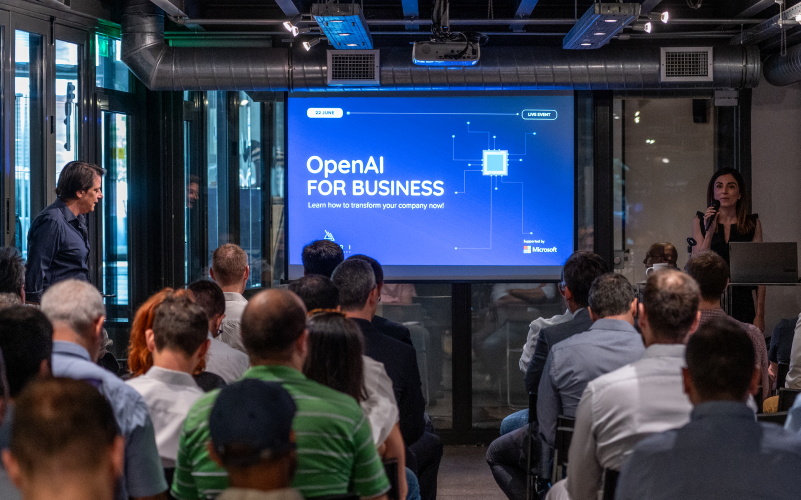 There was an impressive lineup of industry experts from both Satori Analytics and Microsoft, creating an atmosphere of excitement and anticipation. It started with a captivating demonstration during the "Show & tell" segment, presented by Stijn Schuermans, Chief Product Officer, and Ioannis Pikoulis, Data Scientist, of Satori. This demonstration showcased the extensive capabilities of OpenAI, ranging from search assistance and summarization to key feature extraction, classification, sentiment analysis, personalization, contextual generation, speech-to-text, and chat with CSV/XLSX and DB. The emphasis was on practical applications, effectively illustrating how OpenAI can be harnessed across diverse industries, for different stakeholders, and in various situations.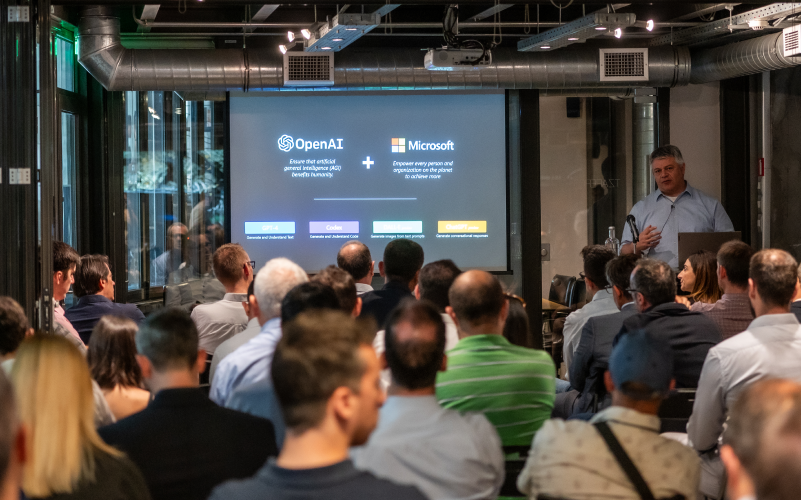 After an engaging and informative first half of the event, the focus shifted towards exploring the potential of OpenAI in the enterprise. Dimitris Koutsanastasis, an esteemed Data & AI Specialist from Microsoft, took the stage to introduce Azure Open AI Service and emphasize its relevance for businesses.
Mark Ransome, Satori's CTO, took this session further by diving into the implementation of OpenAI in enterprise settings, considering crucial factors such as performance, cost, security, and effort. Last but not least, to provide attendees with a tangible means of evaluating the business value of incorporating AI, Stijn presented a comprehensive use case valuation framework that enables organizations to gauge the impact of OpenAI on their operations effectively.
The "OpenAI for Business" event proved to be an exceptional platform for professionals seeking valuable insights into the practical applications and inherent value of OpenAI. Participants left with a profound understanding of how OpenAI can be strategically leveraged for growth, innovation, and enhanced performance within their organizations.
We express our heartfelt appreciation to the individuals who organized and contributed to the success of the "OpenAI for Business" event hosted by Satori Analytics. Special thanks go to Stijn Schuermans, Mark Ransome, Ioannis Pikoulis, Eria Polykarpou, and Dimitris Koutsanastasis for their invaluable contributions. We also extend our gratitude to Theodora Lamprinaki, Konstantinos Tsekos, Stefanos Theocharis, Spyros Linardakis and Pamela Souxes for their significant roles in the design and development of the demo, and for the planning of the event.
Satori Analytics continues to spearhead advancements in the field of analytics. Events like "OpenAI for Business" demonstrate the company's unwavering commitment to empowering businesses and individuals with the tools and knowledge necessary to unlock the full potential of OpenAI. With its remarkable success and positive feedback from attendees, this event solidified Satori Analytics' position as a leading authority in the realm of OpenAI.